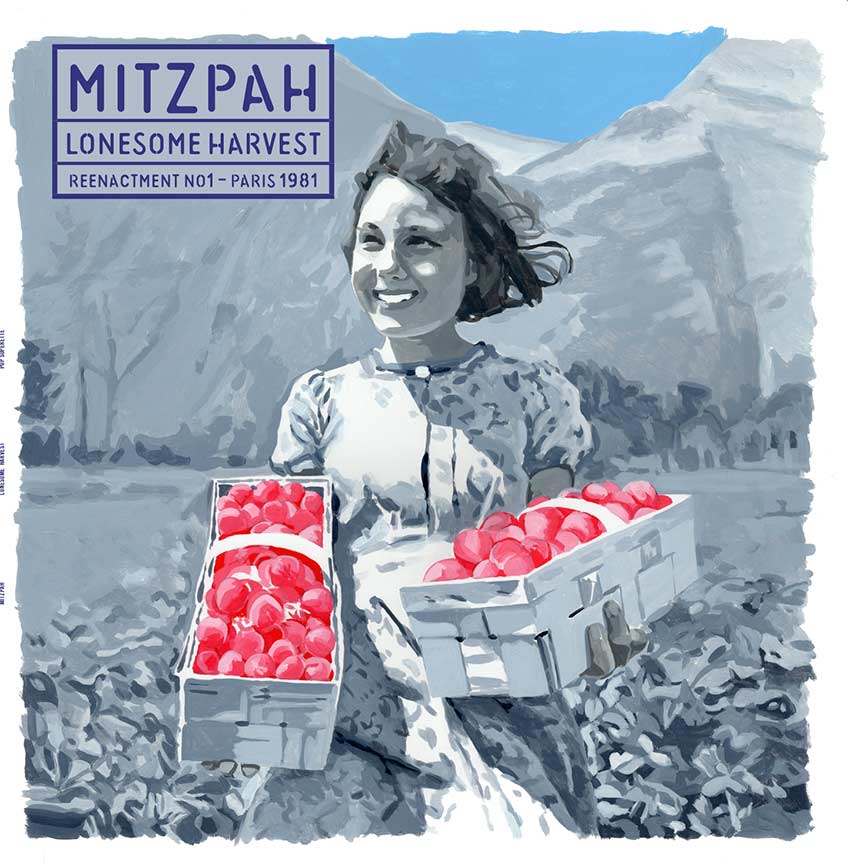 The Mitzpah project is the fruit of the collaboration of Gregory Davidow (singer of the first historical punk band of the Eastern bloc: Spions) and Hervé Zénouda (drummer of the Punk and New Wave Parisian scene, then drummer of the pioneer band Stinky Toys).
In the summer of 1981, the punk wave is over, a new decade opens. The Stinky Toys have separated, Spions has just made an album on the Dorian label (Modern Guy, Jacno…) with Artefact (Maurice Dantec), Claude Arto (Mathématiques Modernes) and Hervé Zénouda on drums. Gregory is about to leave Europe for the United States.
A record project is then set up around
Herv
é's compositions on which Gregory puts his lyrics and his voice. Several tracks are made up (with Yann Le Ker on guitars and Jean-François Coen (Modern Guy) on bass) which take note of the closing of the counter-cultural parenthesis (« In Andy Warhol factory »), proclaim, in reaction to certain drifts, the indefectible link with Anne Frank (« Pardon »), they walk, by renouncing to change the world, the steep paths of the mystical election (« Penal Servitude »), they approach the theme of the resolution and the overcoming of the opposites (« Eden was a garden »)… The label Dorian is interested, the disc will however never succeed. Gregory leaves Europe and
Herv
é, for his part, turns to other musical adventures.
Forty years later, never having forgotten this aborted project,
Herv
é Zénouda decided to re-record all the tracks. Indeed, it seems to him that this record is an important document of this particular moment (end of the punk, beginning of a new era of the 80's which sees two paths open, the one of the post-punk on the one hand and of the beginnings of the French-Touch on the other hand) and that it fits, by taking into account the principal actors in play, fully in the history of the French rock.
He called upon Yann Le Ker (Modern Guy, Lizzy Mercier Descloux, Lio…), who was already involved in the initial project, to take charge of the guitars and the production. Together, they gathered a new drummer and bass player, reviewed all the arrangements, and brought in new instrumentalists (piano, violin, trumpet, saxophone, choirs…) while Gregory recorded his voice in Montreal where he lives.
This new recording sounds at the same time contemporary while keeping a perfume of this post-punk era of the beginning of the 1980s. In this sense, it can be seen as an introduction in the musical field of the practice of « re-enactment » practiced in the performance arts (replaying an identical historical performance) or more commonly, in cinema, that of the biopic. A musical biopic, therefore, where the main roles would be played by the very actors of the period being retraced…
 The record is produced by the young Toulousian production company « Pop Supérette » and distributed by Modulor Music.
The project is supported by the Agnes B. foundation, Paris.
Le projet Mitzpah est le fruit de la collaboration de Gregory Davidow (chanteur du premier groupe punk historique du bloc de l'Est : Spions) et d'Hervé Zénouda (batteur incontournable de la scène Punk et New Wave Parisienne, alors batteur du groupe pionnier les Stinky Toys).
Dans l'été 1981, la vague punk est passée, une nouvelle décennie s'ouvre. Les Stinky Toys se sont séparés, Spions vient de réaliser un album chez le label Dorian (Modern Guy, Jacno…)  avec Artefact (Maurice Dantec), Claude Arto (Mathématiques Modernes) et Hervé Zénouda à la batterie. Gregory s'apprête à quitter l'Europe pour les Etats-Unis.
Un projet de disque se met alors en place autour des compositions d'Hervé sur lesquelles Gregory pose ses paroles et sa voix. Plusieurs morceaux sont maquettés (avec Yann Le Ker  aux guitares et Jean-François Coen (Modern Guy) à la basse) qui prennent acte de la clôture de la parenthèse contre-culturelle (« In Andy Warhol factory »), proclament, en réaction à certaines dérives, le lien indéfectible avec Anne Frank (« Pardon »), arpentent, en renonçant à changer le monde, les chemins escarpés de l'élection mystique (« Penal Servitude »), abordent le thème de la résolution et du dépassement des contraires (« Eden was a garden »)… Le label Dorian est intéressé, le disque n'aboutira pourtant jamais. Gregory quitte l'Europe et Hervé, de son côté, se tourne vers d'autres aventures musicales.
Quarante ans plus tard, n'ayant jamais oublié ce projet avorté, Hervé Zénouda décide de le reprendre en réenregistrant l'ensemble des morceaux. En effet, il lui semble que ce disque est un document important de ce moment particulier (fin du punk, début d'une nouvelle ère des années 1980 qui voit deux chemins s'ouvrir, celle du post-punk d'un côté et des prémices de la French-Touch de l'autre) et qu'il s'inscrit, en prenant en compte les principaux acteurs en jeu, pleinement dans l'histoire du rock français.
Il fait appel à Yann Le Ker (Modern Guy, Lizzy Mercier Descloux, Lio…) qui participait déjà au projet initial, pour prendre en charge les guitares et la réalisation. Ensemble, ils réunissent un nouveau batteur et bassiste, revoient l'ensemble des arrangements, font intervenir de nouveaux instrumentistes (piano, violon, trompette, saxophone, choeurs…) pendant que Gregory enregistre sa voix à Montréal où il réside.
Ce nouvel enregistrement sonne donc à la fois contemporain tout en gardant un parfum de cette époque de l'après-punk du début des années 1980. Dans ce sens, on peut y voir une introduction dans le domaine musical de la pratique de « re-enactment » pratiquée dans les arts de la performance (rejouer à l'identique une performance historique) ou plus communément, au cinéma, celle du biopic. Un biopic musical, donc, où les principaux rôles seraient joués par les acteurs mêmes de l'époque retracée…
Le disque est produit par la jeune maison de production Toulousaine « Pop Supérette » et distribué par Modulor Music.
Le projet est soutenu par la fondation Agnès B. Paris.